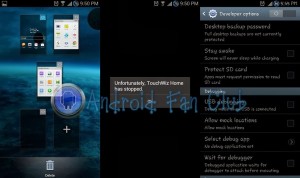 Samsung's Android smartphones are way better in terms of their specifications and routine operations. I really appreciate Samsung's strategy to keep coming with excellent software and hardware support. I have been using Samsung Galaxy S 3 for more than 1 year, haven't faced a single issue until yesterday. I was unable to delete my home screen although its quite easy to remove a home screen from a Samsung's TouchWiz launcher. You just have to to use pinch to zoom gesture on your home screen and it will show you all your home screens, from there you can easily drag your desired home screen to the delete button at the bottom and bingooo, your home screen has been removed. I was trying to clear up the junk apps and thus I had to remove an additional home screen, I just followed the traditional way to remove my home screen as I had mentioned above, but to my surprise TouchWiz launcher stopped responding and an error message popped up "Unfortunately, TouchWiz Home has stopped." I was like, what the heck? Kept on trying various options to eliminate this error message from my smartphone. The purpose of this post is to help out anyone facing the similar issue, as I have discovered the way to fix this annoying error message.
I have been using Omega 4.1.2 Android Jelly Bean ROM on my Samsung Galaxy S 3. Later on I have discovered that the developer options were the culprit for that home screen error message. I had immediately disabled the developer options from my Samsung Galaxy S 3 and restarted my smartphone. Now I had tried again to remove the additional home screen from my device and this time there was no error message while removing the home screen.
So if you guys are also facing the similar issues with TouchWiz launcher while removing your home screen, you just need to turn of developer options from settings of your Android smartphone. Let me know if this tip has helped you to resolve your problem, in the comments section below.
How to turn off Developer Options from Android Devices?
Open the Menu / App Drawer
Navigate towards Settings app
Select Developer Options and disable them
Restart your phone!