Love playing puzzle games on your Android Smartphone or tablet? Here comes a very cool yet addictive puzzle game for your smartphone. The game offers HD realistic graphics and sounds which makes it more appealing.
There are several levels and achievements to be unlocked so that you can keep exploring and struggling to unlock new levels. If you have played famous game Candy Crush Saga, you will be familiar with this type of puzzle. This game is an addictive alternative to Candy Crush Saga.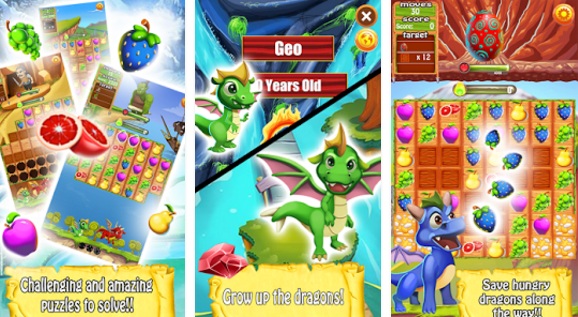 Dragonland is suddenly attacked by fierce humans and orcs. As a result, they captured our land. Fortunately, Older Dragons managed to throw some eggs around the world. Now we are lost and still captured inside our eggs.We are very young, but the only hope to save our Land. We are the Wonder Dragons, and we need a hero to help us. Humans captured our home, which side you choose?
Start this journey with us and help us grow strong!!
Many power up options are also available inside the game. This game is free to download while it offers in-app purchases for certain items such as when you are running out of coins, you can buy them to unlock new levels. Install this wonderful game today and start enjoying the gameplay on your Android smartphone or tablet. It works with almost every Android smartphone & tablet.