Today's smartphones are capable of superior HD gaming with cutting edge graphics and high end dedicated graphics processors in Android devices.
One cannot simply deny the joys of elite class multi-player gaming, its just moments away, take out the smart phone from your pocket and start playing either single player challenges or if you do have an internet access most probably WiFi access, you can enjoy multi-player gaming. We will cover top notch HD Racing games for gaming enthusiasts in this post.
Top 10 Best HD Racing Games for Samsung, Huawei & Xiaomi Phones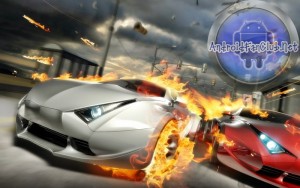 TOP PAID HD RACING GAMES FOR ANDROID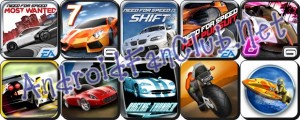 1. Need for Speed: Most Wanted – DOWNLOAD

Buckle up, hit the gas and hold on tight; you're in for the ride of your life. Outrun cops, outsmart rivals – and outdrive your friends – in the most dangerous Need for Speed yet. Do you dare to be the Most Wanted? Need for Speed Most Wanted is an immersive, high-quality game. Please note that it requires a 550MB+ download and roughly 1,900MB+ free space on your device.
2. Asphalt 8: Airborne HD – DOWNLOAD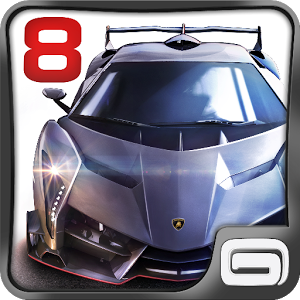 Gameloft has recently released much awaited arcade racing game "Asphalt 8: Airborne" for Android smartphones & tablets. Gameloft kept on releasing the 
gameplay video teasers of Asphalt 8 2 months ago
. Asphalt 8 for Android has stunning graphics and gameplay. Asphalt 8 has got a brand new physics engine that brings dynamic high speed aerial stunts & the best driving experience right in the palm of your hands. Most of the Android users have given 5 star ratings to this wonderful racing game that excites & engages the players too much.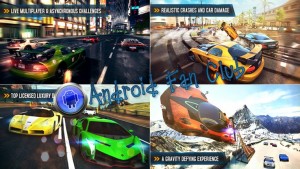 3. Asphalt 7: Heat – DOWNLOAD

Hit the speed of heat in the newest, fastest, most visually stunning edition of the famed Asphalt series. A FIRST-CLASS LINEUP Drive 60 different cars from the world's most prestigious manufacturers, like Ferrari, Lamborghini and Aston Martin, including the legendary DeLorean. RACE ACROSS THE GLOBE Gear up to race on 15 tracks set in real cities around the world, including brand new tracks in Hawaii, Paris, London, Miami and Rio. CHALLENGE THE WORLD The completely revamped multiplayer lets you take on up to 5 of your friends locally or online. Keep track of who's the best with the new Asphalt Tracker that lets you compare stats, show off achievements and challenge rivals. You can also find new online opponents with the matchmaking system.
4. Asphalt 6: Adrenaline – DOWNLOAD

Race the world. Feel the adrenaline. Feel the thrill of arcade racing like never before in the newest adrenaline-pumping game of the Asphalt series. BUILD YOUR DREAM COLLECTION Discover 42 cars and bikes from Ferrari, Lamborghini, Aston Martin, Ducati and other world-class manufacturers. Collect them in your own 3D garage. RACE YOUR FRIENDS You can even take on friends in Online and Local Multiplayer mode for up to 6 racers. Climb the online leaderboard to be the best in the world! LEAVE THE WORLD IN YOUR DUST These street speed races will have you tearing up city streets in L.A., Tokyo, the Bahamas and more. Each location is rendered in beautiful HD graphics. CHALLENGE THE BEST Don't take your eyes off the road for a second, because you'll be driving against tough opponents in 11 different leagues and 55 events.
5. Need for Speed : Shift – DOWNLOAD

EVERY PRO CIRCUIT DETAIL Experience the sweeping skylines of 18 tracks in inspiring international locations (Chicago, London, Tokyo) through day and night driving. See and feel roaring engines, squealing tires, and crunching collisions. Above all, get speed, speed, and more speed! UPGRADE, CUSTOMIZE, AND COMPETE Fine tune performance with Top Speed, Acceleration, Tires, Suspension, and Nitrous upgrades. Add custom details like spoilers, rims, specialized paint jobs, and body kits. HOW DO YOU RACE?  Jump into Quick Race or dominate the circuit in Career Mode. Select 3 Difficulty Settings (Rookie, Pro or Veteran). Track your evolution with DRIVER PROFILE. Grab hold and push it to the limit with the most visceral and aggressive racing game on Android!
6. Need for Speed: Hot Pursuit – DOWNLOAD

Feel the rush of the escape and the thrill of the takedown! Outrun the law as a Racer in supercars like the Pagani Zonda Cinque – or stop racers cold as a Cop in high-speed police interceptors like the Lamborghini Reventon. Experience pulse-pounding action as you make the escape – or make the bust – with Need for Speed Hot Pursuit™ on Android. CHASE ACHIEVEMENTS Drive up to 20 precision-performance cars in adrenaline-fueled showdowns across 24 day-and-night tracks. Take it to the limit in 48 total Cop and Racer Career Events, collect bounty, and rise to the top of the ranks.

Real Racing 2 sets the pace as the most critically-acclaimed racing simulation on Android. Speed away with hours of high-performance gameplay, cutting-edge graphics, and intuitive controls. Experience the excitement, competition, and glory of authentic championship racing with Real Racing 2! Real Racing 2 is an immersive racing experience that requires a 350+ MB download. We strongly recommend connecting to WiFi before downloading. We promise – it's worth it!
8. Real Racing 3 – DOWNLOAD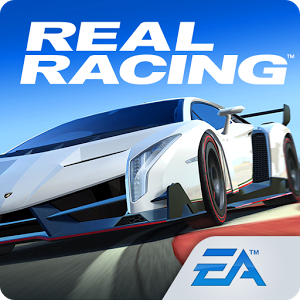 Real Racing 3 sets a new standard for mobile racing games – it really must be experienced to be believed. This is a highly detailed game of superior quality. Please make sure you have at least 1.2GB of free space on your device.Featuring a wide variety of officially licensed tracks, an expanded 22-car grid, and over 50 meticulously detailed cars from makers like Porsche, Lamborghini, Dodge, Bugatti, and Audi. Plus, racing against friends becomes even easier with the advanced Time Shifted Multiplayer™ (TSM) technology, allowing you to race anyone, anytime, anywhere on smartphone and tablet devices!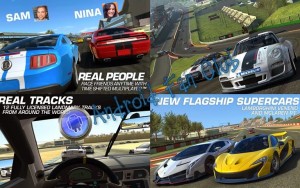 9. Speed Racing – DOWNLOAD

Drive the #1 critically acclaimed Android racing game today! Get ready for the most exhilarating handheld racing experience! Buckle up and hit the gas; you're in for the ride of the best racing experience. Feel the intensity of no brakes allowed street racing with the best 3D racing visuals. How to Play: – Tilt your cell phone to steer left or right – Touch the screen to accelerate the speed Game Features: – A tense endless racer to dodge the traffic & deadly obstacles. – Earn gold coins to unlock 7 unique cars and buy power-ups – Visually stunning and built for speed.

A tyre burning racer in full 3D, featuring cross-platform multiplayer! Raging Thunder is a gut-churning, tyre burning racer giving you control over the most extreme muscle cars in the world! Race against time, CPU controlled opponents or up to three other speed addicts in this fast paced and exhilarating coin-op style racing game. Strap yourself in and prepare for the most hardcore racing experience of your life! Key features: Online multiplayer State-of-the art 3D graphics Boost, draft and tackling physics Customizable controls.

In Highway Rider, being daring and passing close to vehicles increases your speed and your score. Be careful with your maneuvering though, crashing hurts! Collect pictures of your crushing accidents. Customize your own rider to give them a personal touch! Achievements and leaderboards coming soon! Which would you like to see in the next update, let us know! – New Characters – Different Roads – Real Racing

The premier console-quality water racing game for mobile. Riptide GP is the first ever console-quality water racing game for mobile, featuring super-realistic water physics, real-time reflections (dual core or higher), and gorgeous high-detail vehicles and environments. Rev up your supercharged jet ski and take a wild ride through twisting canals and rivers, futuristic cityscapes, and mysterious research facilities. Skill, stunts, and speed will be your best allies as you grab massive air off huge waves, kick out death-defying tricks, and boost your jet ski to victory across a dynamic, ever-changing torrent of foam and spray.
Related readings:
You might also like to have gaming controls for your Android Smartphone or tablet, here are two popular and affordable gaming controllers that you can easily purchase and enjoy the gaming on your Android device at extreme level.