Android smartphones & tablets have super processing speeds these days comparable to regular computers. We can call Android devices to be portable computers that you can carry almost anywhere without having to worry about weight constraints of carrying a full fledge laptop computer.
With such level of portability and processing power, users can easily use office productivity apps that help Android users to perform Word processing, create, view & modify Word documents, Excel spreadsheets, Powerpoint presentations and to read PDF file formats. Apart from these basic functions these office apps for Android will also enable you to backup your documents to cloud services like Box, Google Drive, Dropbox, Skydrive & more, print the documents wirelessly and even convert your documents into PDF files.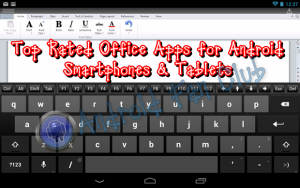 Top Rated Office Apps for Android Smartphones & Tablets
Today Android Fan Club will share best Android office apps with our loyal and valuable readers. As there are no native / default apps for handling office documents on Android smartphones, therefore we will share third party office apps to boost your productivity. These apps have already received excellent user ratings and have been rigorously tested and optimized for touch Android smartphones & tablets. You can even connect mouse & keyboard with your smartphone & tablet either via bluetooth or through USB-OTG & can enjoy the ease of editing your official documents in a traditional PC experience. (Your device need to support USB-OTG, latest devices from Samsung, The Galaxy S3 and Galaxy S4 support USB-OTG function natively).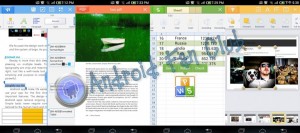 Kingsoft office application for Android smartphones & tablets is free and multi lingual solution for your word processing needs. Its sleek and beautiful user friendly interface makes it one of the best office suite application.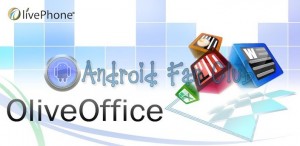 Olive office premium for Android smartphones & tablets is not only free solution for office suite apps, but it supports variety of different file formats such as MHT and CHM files. This app supports English, French, Korean, Chinese, Japanese & Deutsch languages.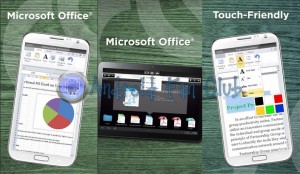 Ever wanted to experience Microsoft Office right on your Android smartphone or tablet device? CloudOn helps to create, review and edit Microsoft Word®, Excel® and PowerPoint® files, supporting wide file formats including Microsoft Office®, Adobe Acrobat® and Images: DOC, DOCX, XLS, XLSX, PPT, PPTX, PDF, JPG, PNG, GIF. You can also connect CloudOn app with your Box, Dropbox, Google Drive and SkyDrive account(s), and share files with colleagues and contacts via email directly from the app.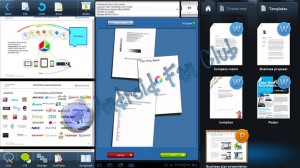 Smart office 2 is another great office suite application to create, view and modify Word documents, Excel spreadsheets, Powerpoint presentations, view PDF documents. You can seamlessly connect smart office with cloud services like Dropbox & Google Drive to store your important documents in the cloud backup. You can also export your documents to PDF format and even print them up with thousands of wireless printers around. Smart office 2 also supports stereo 3D document viewing. You should try out the free lite version before purchasing the full version of smart office 2 application.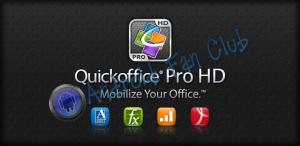 QuickOffice Pro HD also offers you to view and modify your documents belonging to different file formats. You can easily sync the app with cloud storage services to backup your important documents. However this app is quite expensive as compared with most of other similar category apps that we have shared with our readers in this post.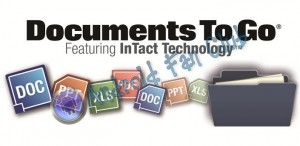 Documents To Go is one of the cool office & productivity application for your Android smartphones & tablets that supports vast variety of office documents including word, excel, powerpoint, pdf and even password protected documents can be handled with Documents To Go app for Android. You must try out the free version before purchasing the full version of this app. Free version does not let you modify the documents however you can view them without any issues.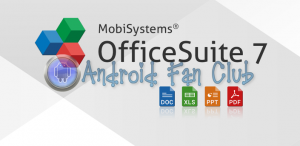 Office suite pro for Android smartphones & tablets has some unique features like format painter, table design, and custom styling for word documents. Excel spreadsheets have great formula accessibility and users are able to view & edit the documents, spreadsheets and presentations with the PRO version of this app. Quick Office has been acquired by Google and now its being offered for free with full editing features for Android and iOS.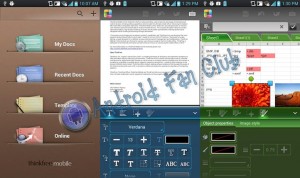 ThinkFree office mobile app for Android smartphones & tablets gives you PC like experience for creating documents, spreadsheets and presentation files. This office app offers extremely user friendly file management  & cloud backup service. The editing features are exceptional and you can even add the video clips in your documents or presentations. High quality images and 3D graph rendering is also supported by ThinkFree office app.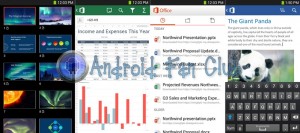 Microsoft has recently released the mobile version of its Microsoft office suite, which is now available for Android. This office suite will provide basic document viewing and editing features only if you have purchased the subscription of Office 365 by Microsoft, unfortunately they haven't released the freeware version. Although you can download it for free from Google Play Store, but it won't work unless you will sign in with your Office 365 login id. Office Mobile for Office 365 will only work with Android 4.0 (Ice Cream Sandwich & above). You can view and edit, Microsoft Word Documents, Excel Sheets & Powerpoint presentations. The sad news is you can only use Office Mobile for Office 365 on Android 4.0 smartphones, while there is no support for tablets as for now.
Final Words
Android Fan Club has shared top notch office apps to enhance the productivity level of our valued readers, helping them to view & edit .DOC, .XLS, .PPT & .PDF documents. We have tried to cover free version of apps where applicable, our readers are suggested to try out and play with free version first and check out whether the app suit their needs, and if you guys find it suitable, you can purchase the full version. We would like to know your thoughts regarding office apps for Android smartphones & tablets, that you consider the best ones for your regular routine usage, in our comments section below.