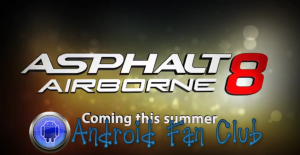 The famous Asphalt HD racing series by gameloft will be getting its latest version "Asphalt 8 Airborne" this summer. Gameloft is doing pretty well by releasing well optimized & excellent HD games for Android smartphones & Tablets. Asphalt 8 Airborne's teaser video hints about stunning graphics and smooth gameplay. Also make sure to check out
Android Fan Club's Top Rated HD Racing Games collection
. The game will be released on Google Play Store with the initial price tag of $0.99.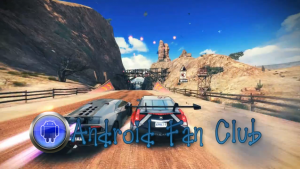 Official Gameloft blog post about Asphalt 8 Airborne says it all…
Asphalt 8 features 8 all new maps from the Nevada desert to the city streets of London, plus a bonus revamped Monaco track for our A7 fans. What I really love about these new tracks is the impact the environments have on each race. Yes, there is snow. And dust. And rain! Hydroplane through the water-soaked streets of Tokyo after a heavy downpour or slip and slid across frozen tracks in Iceland. And each map features a host of alternate routes to explore and conquer.

And the thing that really sets the tracks, and A8 in general, apart from previous Asphalt games in my opinion is the brand new physics engine. Now you'll feel like you're really in control when you slide behind the wheel. Pull death-defying stunts, destroy objects in your path, and catch major air off ramps all thanks to the new physics system!

But, don't think you'll be by yourself on these epic tracks. Asphalt 8 will feature both synchronous and asynchronous multiplayer so you can challenge your friends around the clock! A7 fans will be happy to note that Takedown mode is returning and we've added two new MP modes in A8: Gate Drift & Infected. In Gate Drift you're challenged to "drift" through multiple gates. The more you get through, the more points you get. While, Infected is more of a big game of tag. One player starts as "infected" and must hit another car to pass the infection along and regain their health. If they don't pass the infection to someone within 20 seconds they're eliminated. Now that's what I call good old fashion fun!
Check out the screenshots gallery of Asphalt 8 Airborne for Android smartphones & Tablets