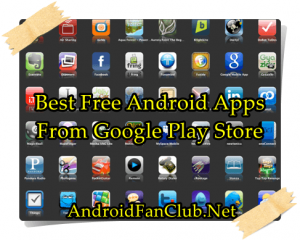 Android is the leading Smartphone OS (Operating System) around the world. Smart Phone market is kept on increasing with fight between iOS and Android. It is also very hot topic in current generation though Android and iOS both is winner in some situations but numbers of Android phone users are more than iOS phone users (as survey by Kantar in 2014). So today I picked up Android for you all!!! Android phones are all over in the world and in this new generation people only look for smartphones which give them 1000's of interactive features with tons of FREE apps. Top 10 Best Selling Samsung Android Smartphones can be found here.

Let's have a look at some interesting facts about the ANDROID…!!!
There are nearly 1.2 million apps in the Google Play and out of theses 1 million apps are FREE. You might be more amazed to see that out of 1.2 million apps 18% of them are of low quality. Moreover, if you look for specific apps for your phone than its hard to find one because Google play will show you the top rated apps and you might regret after downloading few of them because some are just got on top by SEO guys or by doing paid advertisements (online/offline). As I personally felt the same many times so, I researched on Best Free Android Apps available in the market and giving you some room by listing the best FREE apps which are quite necessary to your phone or a must download app all by 2014.
To talk more over the Reasons for the Dominance of Android, I can share some know yet interesting to discuss points with you all:
Android is a proven victorious over its Contenders (iPhone, Windows) considering the very fact that it is extensively available over a broad spectrum of Smartphone devices ranging from highly sophisticated Devices to Mid-level Devices, thus making its availability open to all. It is customizable to a Varying range of smartphones.
Also, a Variety of established as well as upcoming Mobile Brands are focusing over android based smart phone devices, the sheer reason for the same is the High-end User-Friendliness being available with Android Operating System. Also, Considering the Application dominance in Android store is a dominating factor as well. The majority of applications being available on the Google Android Playstore are way far in number, then on any other App stores.
Yet another major factor that adds to the uniqueness & Value of Android is the DEVELOPER'S INTEREST in the Android Domain. Today, maximum (in number) smartphone developers are developing applications for android due to the following key factors:
Excellent user interface designers.
Expert android application developers.
Pixel perfect app designing.
Ensure app compatibility across various android powered devices.
Thoroughly tested apps for a flawless user experience.
Reduce your time to launch the app in the app market.
Source code security with non-disclosure agreement.
Reasonable in cost.
Android app marketing.
Thus, all these factors contribute to the Success & popularity of Android devices. I have categorized the apps so that people looking for niche category apps, can get it easily. Below are the following apps that are present in the info-graphic shown below!!!
1. Books & References
2. Communication
3. Entertainment
4. Health
5. Media & Video
6. News
7. Personalization
8. Photography
9. Productivity
10. Shopping
11. Social
12. Tools
13. Travel
14. Weather
Best Free Apps For Android Info-Graphic
I hope you enjoyed the info-graphic and find the best free android apps for your phone or tablet. Which apps do you frequently use on your Android device? Let us know in the comments section.