Today we are going to share top rated offline voice navigation and maps for Android smartphones, which allow you to navigate all around the world without having to use 2G / 3G / 4G LTE internet data or WiFi. These apps will only be using your Android smartphone's built in GPS to help you navigate in 2D or 3D modes depending on the country you are living in (3D maps are not available for all countries).
For once you'll have to download the offline maps data and store it on your device, the size of maps / navigation data depends on your region, since 3D maps consume more storage capacity on the smartphone. Google Maps also allow a bit of offline navigation for a particular area, maps cache on Google maps gets removed  automatically after 30 days, however they are best for online navigation if you have an active monthly data plan.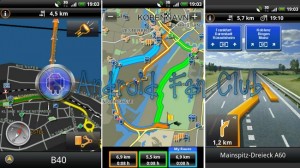 It's pretty usual that using GPS and Navigation tools on your device will drain your smartphone's battery more quickly and during the usage of GPS navigation apps, you will also feel that your Android smartphone's temperature is more than usual. Apart from these drawbacks, if you love to travel, these applications are meant just for you, you'll be loving the fact that how easier it is for you to travel for the place you had never visited, due to extremely accurate and easy voice guidance of GPS based offline navigation apps. We would suggest you to switch off GPS once you arrive your destination for prolonged battery life. Have a look at top rated offline voice navigation apps for your Android smartphones / phablets or tablets.
Best Offline Maps With Voice for Samsung, Huawei & Xiaomi Phones

1. Sygic GPS Navigation
or Sygic Aura Maps offer 
high quality TomTom maps stored on your Android device (
Works with GPS only, internet is not needed
) together with a robust set of navigation features help you drive with confidence.
Turn-by-Turn voice guided navigation. 
Spoken Street Names to focus on the road. 
Three Alternative Routes to choose from. 
Waypoints for places you want to visit . 
Dynamic Lane Guidance to know the right lane. 
Junction View to understand intersections. 
Speed Limit Display to protect your wallet. 
Speed Camera Warnings for Speedy Gonzales.

2. MapDroyd – offline maps is for the whole planet. With MapDroyd, you can explore maps for the whole world and search for addresses and places. You can see and track your current location on a scalable vector map. Other than tiled maps you can rotate your map view in any direction and also change the perspective from a flat 2D map to a 3D perspective view. You can also pick from different map styles without downloading new map data.

3. Maverick Pro GPS Navigation
offers to use offline maps and GPS even without an internet connection. This app is great for hiking, boating, geocaching and other outdoor activities. Multiple global and regional online maps, including: Bing, Yandex, Open Street Maps, OSM Cycle, OSM Public Transport, Multimap (UK), OutdoorActive (Germany, Austria, South Tyrol), Cykloatlas, HikeBikeMap (Germany).
Maverick Lite Version
is for FREE.

4. Navfree Free GPS Navigation
is a completely free navigation app that offers turn-by-turn directions, spoken and on-screen instructions, offline map use and address search and live search via Google and Microsoft Bing, among many other features. The maps it uses are available for free download from the Navfree Store. The map data is stored on your device so there is no need for a constant data connection while driving. It also allows you to browse maps anytime, anywhere without paying for data connections, which means no costly roaming charges when abroad.
USA version of NavFree Free GPS Navigation is over here
.

5. MapsWithMe Pro, Offline Maps
– The quickest offline maps of the entire world. Search and mark your places in offline mode. Maps work everywhere! ALL COUNTRIES, ALL CITIES. If you get the MapsWithMe Pro, the entire world is in your pocket. Even maps of the smallest islands! REALLY FAST. No grey squares anymore! Our innovative data compression method allows you to download maps in seconds, navigate through them smoothly. MAP ROTATION AND AUTO-FOLLOW MODE. You can rotate the map with your fingers manually. When the auto-follow mode is on, the map automatically orients itself to the direction you are moving. 
MapsWithMe Lite, Offline Maps
are available here for FREE.
If you had used any of the above mentioned applications for navigation purposes, let us know your experiences in the the comments section below. And if you feel that we had missed to cover any other top rated offline navigation app for Android, do mention that too. Enjoy offline & voice guided navigation on your Android smartphone 🙂