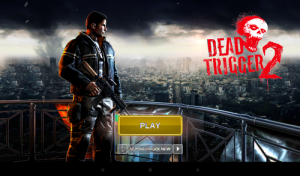 Not long ago, one of the most anticipated games Dead Trigger 2 storms in to our mobiles and took us with it. Dead Trigger 2 gives you responsibility to save the humanity from being eaten alive by the living dead.
I never had the chance of playing first Dead Trigger, mostly because I am very selective when it comes to choose Zombies for movies and for games. I jumped on Dead Trigger 2 to grab the front row seat to get its video. Instead I am now hooked to it and still playing it. What a game it is. By technical aspects and by story line Dead Trigger 2 is one of the finest. Only if it runs offline because you need an active Internet connection during the game.

Tip #1: It is better if you create an account before starting the game, because you will be needing one to continue the game after your first successful mission/stage.
Controls: In my point of view Interaction is one of most important part to make a game successful. For a touch screen game Dead Trigger 2 offers impressive virtual controller. The game does support hardware controllers too but I didn't look much into it.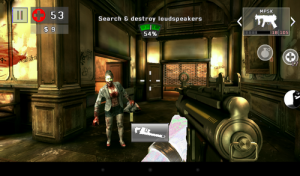 In any shooting game usually the irritating part is the shooting but in Dead Trigger shooting is in your control. You have to aim your gun at zombie the gun starts firing. Alternatively you can set it to fire when you hit the trigger. Both techniques have their pros and cons. For now I am on full auto.
Graphics: Gorgeous is not the word I would use to define a world crawling by human-craving zombies but Dead Trigger 2 is Gorgeously made product. You have to experience it for yourself. Brilliantly done and smooth graphics really add up spice in overall game play.
Tip #2: When you kill a zombie it will drop free goodies such as cash or bullets. Rush to grab them because you will be needing a lot of them as you progress in game.
Missions: Kill the zombies, Save the world and do not die while doing it. The plan was simple but Dead Trigger 2 had to twist it. You will be saving survivors and many of those people are essential to your own survival and success.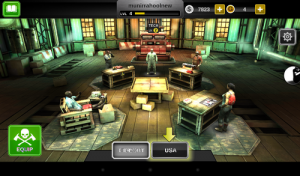 Among most important people you will be saving are a magical (and beautiful) Medics lady, a Weapons expert, an Explosive expert, a Scientist and a Smuggler. They will be your helping buddies at Hideout and made you stuffs to blow up, rip zombies apart or to get you healthy but, they won't do it for free so you have to be a rich guy.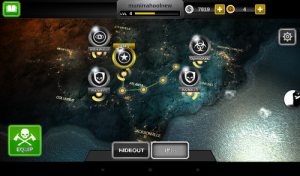 I don't know how big the game is but from the looks of map it looks big. You will be traveling across the world. There are random side-missions available for extra bonus and resources.
Tip #3: Pay attention to the Tips in the game.
Zombies: Zombies loves eating brain, unfortunately you have got one impressive brain hence you are on top of their dinner list. You can shoot zombies in the legs to kill them (it gives you extra money) but just like real zombies (what!) they don't always die so look out for creeping undead.
You will also be facing some sort of mutated super zombies. They are stronger, smart and dangerous. Unlike "boss" characters who only came at the end of level, these super zombies appears in the middle of missions and can come more then ones.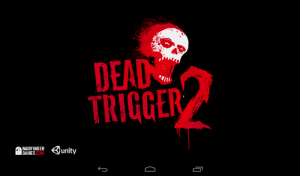 I, as a user and occasional lazy gamer find Dead Trigger 2 an excellent game that deserves success and attention of its player.
The best part of Dead Trigger 2 is, it is a Free Game. Big thanks to developers and producers for this ultimate gift. Head to the Google Play, download it, create account and join the forces to make world a better place for humans.