This year, after the launch of the four most awaited flagship phones from the South Korean Giant, we are expecting something better from OnePlus too. It is rumored that the company is doing something different this year that will give a tough competition to the biggest edition from the S10 series – Samsung Galaxy S10 Plus.
The OnePlus Company has decided to launch OnePlus 7 in the next month that is wallet-friendly and is featuring the best features comparable to Samsung Galaxy S10 Plus. So which phone is worth investing in? Read on to know!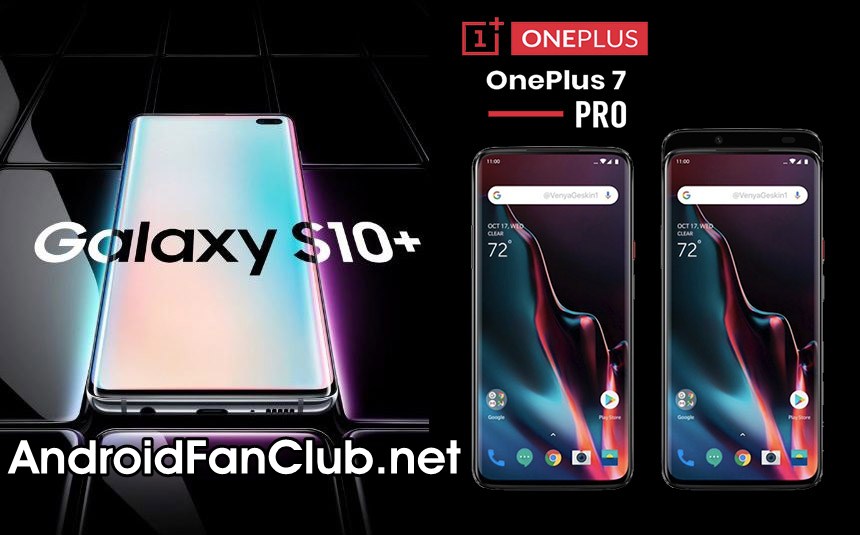 OnePlus 7 vs Samsung Galaxy S10 Plus – Which Phone is Worth Buying?
This is our Samsung Galaxy S10 Plus vs OnePlus 7 comparison. Below you will find that out with our side by side comparison of both the devices so that you could decide, which phone is worth investing in.
1. OnePlus 7 vs Samsung Galaxy S10 Plus – Design & Display
Both the phones from Samsung and OnePlus are offering great display and design all in all. Samsung Galaxy S10 Plus comes featuring a big edge to edge curved display size of 6.4 inches along with an OLED display. As far as the design of the phone is concerned, it is pretty much screen on the front with a punch cut hole settling the front-facing camera. the rear of the phone is quite cool as well only featuring triple lenses, as the fingerprint sensor rests within the screen.
OnePlus 7, on the other hand, is going to feature a big display size of either 6.1 or 6.2" with a tiny water-drop notch similar to that of the predecessor 6T of the last year. OnePlus 7 is also planning to feature an edge to edge display with zero bezels that, instead of having a cutout notch, will have a pop-up selfie camera. The rear of the phone will feature triple lenses, similar to that of the Samsung Galaxy S10 Plus but in a vertical positioning.
Apart from that, both the phones have got premium metal and glass design, with the fingerprint and ultrasonic sensor packed within the displays. Yep, both the phones are technology packed!
2. OnePlus 7 vs Samsung Galaxy S10 Plus – Processor & RAM
After the display and design, the next most important feature to look at while choosing a phone is its performance. We have already tested Samsung Galaxy S10 Plus for its performance and it is excellent in every aspect. It features Qualcomm Snapdragon 855 or Samsung Exynos Processor, depending on your location, with the RAM option of 8-12GB. You have also got microSD slot included that can handle storage extension up to 1TB.
OnePlus 7, on the other hand, is going to feature Snapdragon 855 Processor with 8-10GB of RAM with the storage option of 128 or 256GB of storage with no microSD slot.
3. OnePlus 7 vs Samsung Galaxy S10 Plus – Cameras
When it comes to the camera, we already know that Samsung Galaxy S10 Plus has featured five freaking cameras – three on the rear and two on the front. All the cameras are very capable and give you more functionality as compared to OnePlus 7 that have got 4 cameras with relatively weaker features.
According to the rumors, OnePlus 7 will offer a triple camera setup 16MP + 16MP + 20MP (f/1.7 aperture, OIS, EIS, 4K) with OIS on the main lens, on the back of the phone, along with a 20MP front-facing one. Whereas, S10 Plus features 12MP + 12MP + 16MP (f/1.5-2.4 variable aperture camera with 960 FPS slow-mo, 4k, etc. + f/2.4 telephoto zoom lens + super-wide angle camera respectively) cameras on the back with the dual 8 & 10MP on the front.
4. OnePlus 7 vs Samsung Galaxy S10 Plus – Specs Under the Hood
Other specifications that both the phones have got are almost similar. Both the phones come with the latest Android 9.0, stereo speakers and in-display fingerprint sensors. Samsung Galaxy S10 Plus has got the large battery capacity of 4100mAh whereas it is rumored the OnePlus 7 is going to carry 4000mAh battery. Both the phones are splash and dust resistant and fast wireless charging support.
In addition to that, S10 Plus has got some additional features like Always On Display, 3D Emoji, Bixby and more.
5. OnePlus 7 vs Samsung Galaxy S10 Plus – Prices
With all those additional features, excellent cameras and little big display, we have got Samsung Galaxy S10 Plus with the price tag starting from $999. However, with a little privation of features, OnePlus 7 is going to be available for purchase starting from $479.
See the difference? OnePlus 7 is the one with akin features and the substantial price difference. However, Samsung Galaxy S10 Plus, although have some additional and excellent features still have got the prices up to the sky. So which phone are you going to buy? Pricier S10 Plus or Wallet-friendly OnePlus 7?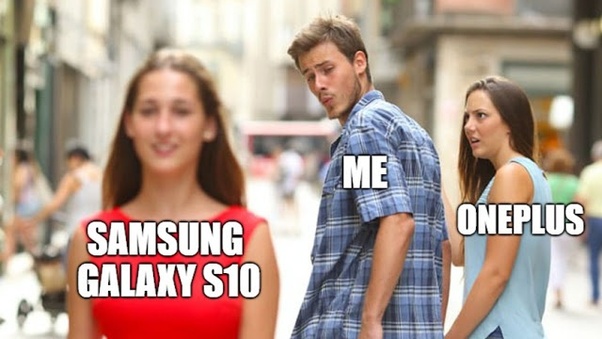 Let us know your thoughts in the comments section below!