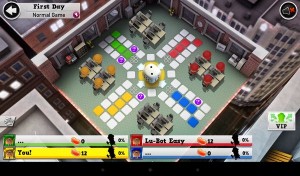 Let me start by saying Mr. Ludo is the best and the coolest Ludo game I played on any computing device ever. Ludo is one of the best indoor board games that can bring entire family to sit together and chill. No matter what age they are Ludo can bring the fun out in the open. And I am more than happy to find a good one.

Mr. Ludo for Android, developed by YoAmbulante Ltd.
has a "Escape from Office" theme going on. First game is your first day at office (personally I think it should have been the trickiest one) followed by 4 more sets. In the last game you retire. All this stages have different backgrounds and different interiors. There is also an option to Customize your game play for more control. With customize you can play it with family members around you just like traditional Ludo board.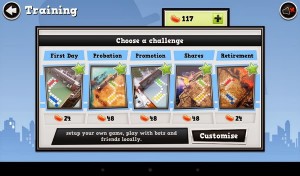 Game play of Mr. Ludo is fun, easy and fast. Visuals are very pleasing and the characters are always entertaining, because they are tiny people instead of discs. You have one dice to Roll (personally I always preferred two). You keep rolling Dice on your turn till you get the lucky 6. With the 6 you can start making your run or there is a VIP card you can use to get out of the box for the price of 6.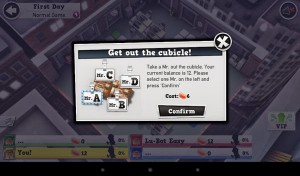 If you are tired of playing against Android, you have option to go online and play with your friends. I wish there was a camera window to see other players' faces during the game.