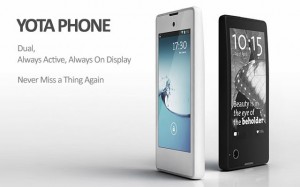 Dual screen smartphones are not something new. Well known brands attempted to market dual display mobiles before. This recent approach on taking dual screen smartphone comes from a Russian IT company Yota Devices. From the looks of their product YotaPhone they have done it right.
YotaPhone by Yota Devices offers a 4.3 inch e-ink display panel at the back of their Android handset along with 13mp camera, led flash and a capacitive touch panel to navigate the secondary non-touch display. This secondary display is an always-on grey-scale display that will show notifications, emails, feeds from social sites, entries from calendar and pictures. Not to mention this side of screen is a perfect e-book reader on the go.
The use of e-ink display will increase the battery time. These displays are extremely battery-friendly and known for perfect readability in direct sun light so users will not have to turn on the main display for checking on above mentioned tasks such as email again and again or for e-book reading.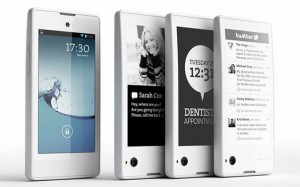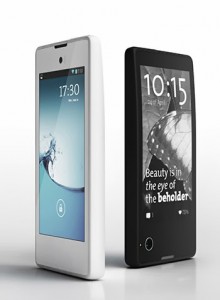 On the front of YotaPhone you have very regular Android smartphone with 4.3 inch color LCD display, a dual core 1.7 processor and company is generous to pack 2gb Ram.
The device itself designed beautifully and available in 2 colors, black and white. We are yet to see real world performance of YotaPhone but it sure is a step in right direction. It is a well thought-out product and we wish them best.
YotaPhone is available for pre-order, will be launched for Russia first and rest of the world will welcome it by the end of Q1 according to the company.