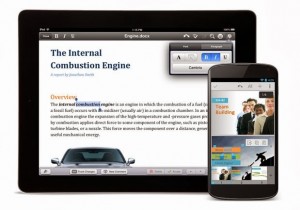 Quick Office suite offers robust viewing and editing features of routine office documents, presentations, excel sheets and PDF files. Google has successfully acquired QuickOffice company and offered QuickOffice suite app for FREE at Google Play Store for Android smartphones and tablets. You can easily access and edit documents that were created using Microsoft Office on your PC, with QuickOffice app. Google Drive has been integrated into QuickOffice so that you can easily access your documents from the
Cloud storage
, no matter where ever you are. You can also turn your existing documents into Google Docs, Sheets and Slides.

Related Reading: Best Document Editing Office Apps for Android
Google has taken this initiative to make QuickOffice a freeware app, in order to tackle Microsoft's Office 365 which requires paid subscription. Since everyone likes to have free apps, Google made it free for everyone. You just need to download QuickOffice app for your Android smartphone or tablet device, sign-in with your Google account and you are free to edit your documents on the go. You will also be getting plenty of Google Drive storage up to 15GB with this package. The new app also brings up additional features to Quick Office such as viewing zip archives and ability to view charts in Excel sheets and Power Point presentations. You will also notice a brand new icon for Quick Office and all other versions of QuickOffice have been removed from Play Store, making just single free full version.