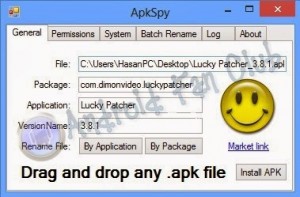 We all being Android fanatics usually collect Android apps and games' apk files as a backup on our laptop or computer device, or even in our smartphone / tablet's external storage. There are times when we need to locate the exact version number of any Android app or game, or we want to bulk rename all of our apk installation packages to their original file name in addition to their exact version. There's a handy freeware application by ido, known as Apk Spy. With this little app you have the power to read the details associated with Android APK installation packages, bulk rename them and view the app permissions.
What does APK Spy do?
The basic purpose of APK SPY application is to locate the apk package name, application name and its version number. You can even bulk rename your apk files by application name or by package name. This handy app will also show you an icon for the app, and you can also have the market (Google play store) link to the app. You can see the permissions of any apk application that has to be granted to any installation package before installation on your Android smartphone or tablet.
If you feel that APK SPY is the best app to handle your apk files, you can even integrate its association with APKs so that every APK file would open directly with APK SPY on your Windows based computer. Then there's a tab named as Batch Rename, you can simply drag and drop hundreds of apk files and can bulk or batch rename them in one go. About section of this utility tells that this is completely a freeware app and you can donate to its developer if you really like this app.
How to use APK SPY App on Windows PC?
Simply run / execute ApkSpy.exe on your windows based computer.
Drag and drop your APK installation package on APKSPY.
APK Spy will let you know its package name, application name, its version number, its icon, its play store link, app permissions and you are able to bulk rename many APK files at once using this app on your PC.