With grand opening of second Thor movie The Dark World, official game with the same title Thor, The Dark World also came down like a thunder at smart phone stores, allowing you to be the god of thunder Thor and save the 9 worlds from evil army of Malekith the Dark Elf.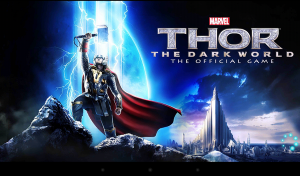 Who wouldn't want to be Thor so I grabbed my copy for Android. Opening sequence was how it should be for Marvel's one of the iconic heroes and member of Avengers. Evil Dark Elf and his army attacked Thor's world with aim to conquer his and the other worlds. I couldn't record the opening sequence in video because once game started there is no "New Game' option. The only way I figured is re-installing the game, which is in my to-do list.
Thor is a fun, entertaining adventure game with rich graphics and great environment. Game play however did not deliver me the joy I was hoping for due to the game controlling. It was clearly not of my taste. I did play two levels before giving up but I had no idea how I was doing it the entire way. I prefer more control over where I move and what I do. A virtual game pad would really make my wish came true for this game and I might play longer.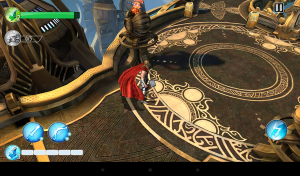 But thousands of players around the world loved Thor game and game play. Missions are simple, game doesn't seem to give complexity or tough puzzles but giving you mighty evil monsters to slam on. During the game you will be unlocking your secret powers, learning new skills and earning stronger armors.
You are not fighting this battle alone. You can summon your soldiers and allies to fight by your side you will be unlocking as you advanced in game. I really want to play more of Thor: The Dark World game to experience all of it.
Video clips will complete the story and link you to the next level. Game controller is easy, despite my complain it is really easy to play the game on the touch screens. To move/walk you tap on the path and Thor follows your direction. You tap to an enemy soldier and comes Thor's mighty hammer to smash off your enemy. Use two fingers tap to throw the hammer. There are other gestures available for power moves such as thunderbolt. And this easy controlling is exactly why I am having problem with; it is too easy for my taste. I had to move my hand all over the screen and I cannot see what is going on down there.