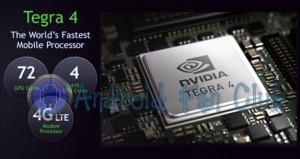 Tegra 4 – World's Fastest Quad Core Mobile Processor with 72 GPU Cores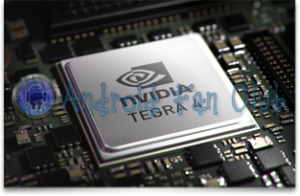 Jen-Hsun Huang – Nvidia's C.E.O had unveiled latest Nvidia Tegra 4 processor which contains 72 graphic cores and 4 CPU cores on ARM's quad-core Cortex-A15 processor chip along with 4G LTE connectivity support with its revolutionary soft modem technology. The Nvidia's Tegra 4 processor will also support "Always-on" HDR camera feature & will be the fastest Mobile Processor to date. Let's have a detailed look on the technologies & revolutions that Nvidia's Tegra 4 processor chip will be bringing in the upcoming Android Devices (Smart Phones & Tablets)
Tegra 4 Key Features
GeForce GPU with 72 custom cores
Quad-core ARM Cortex-A15 CPU, plus a 2nd Generation Battery Saver Core
Computational Photography Architecture (HDR Photography)
LTE capability with optional Icera i500 chipset
4K ultra-high-def video support
Fastest Mobile Processor – Nvidia Tegra 4
Nvidia has officially compared Google's Nexus 10 Tablet with some unknown Nvidia's Tegra 4 based Tablet, they tried to access 25 heavy traffic web pages on both the tablets simultaneously, surprisingly the tablet with Tegra 4 processor only took 27 seconds (almost 1 second per web page) whereas Google's Nexus 10 Tablet took 50 seconds to load those 25 web pages (2 seconds per page). Therefore Tegra 4 devices will be twice as faster as the latest & high end Android Tablets from any other manufacturer without Tegra 4 chipset.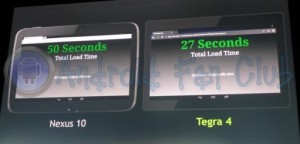 Always on HD Camera – Computational Photography Capability
Among the Tegra 4 processor's breakthroughs is its Computational Photography Architecture, which automatically delivers high dynamic range (HDR) photos and video by fusing together the processing power of the GPU, CPU and the camera's image-signal processor. Its HDR capability captures images, including those taken with a flash, the way they are seen by the human eye – with detail in both bright and dark areas. HDR Video, One Shot HDR, HDR Flash & HDR Burst will be the key features of Always-on HDR camera.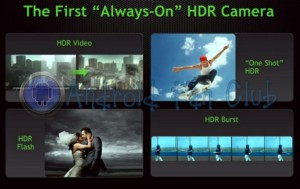 Unprecedented Power Efficiency
Designed for maximum energy efficiency, Tegra 4 includes a second-generation battery saver core for low power during standard use, and PRISM 2 Display technology to reduce backlight power while delivering superior visuals. Tegra 4 consumes up to 45 percent less power than its predecessor, Tegra 3, in common use cases. And it enables up to 14 hours of HD video playback on phones.