With an immense increase in the digital trends, Android powered tablets are setting new records in terms of offering great processing power & high end multimedia features to tech enthusiasts. Either it be official work,  holidays, friend gatherings or you are travelling to some place, you want to remain connected with your fellows, working on an office project and watching a HD movie right on your Android tablet.
Top 5 Best Selling Android Tablets by Asus, Google & Samsung
Keeping in view all the important aspects of Android Tablets, Android Fan Club is presenting you the best Android Tablets from the best brands ever. Have a detailed look upon the specifications and make your decision to buy the one that suit your requirements.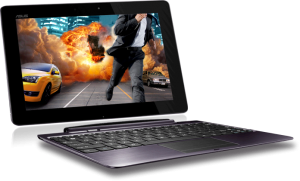 Asus Transformer Pad Infinity TF700T Key Features
– (
Buy Now
)
OS: Android 4.1.2 – Jelly Bean
Display: 10.1 inch Full HD Display
Storage:

 32GB Internal Storage, microSD expansion up to 32GB

Camera: 

Rear auto-focus 8MP camera with LED flash, 5-element lens, large F/2.2 aperture and back illuminated CMOS sensor for crystal clear shots

Processor: NVIDIA Tegra 3.0 Quad Core Clocked at 1.6 GHz
GPU:

 

Improved graphics performance with a 12-core GPU

RAM: 1 GB
Connectivity: WiFi 802.11 B/G/N Wireless, Bluetooth
Extras: Keyboard Dock with External battery (needs to be purchased separately) – Buy Keyboard Dock for Asus Transformer Pad Infinity TF700T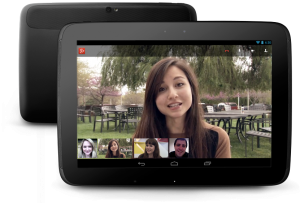 Google Nexus 10 Key Features
– (
Buy Now
)
OS: Android Jelly Bean 4.2
Display: 10.1 inches 2560 x 1600 pixels, (~299 ppi pixel density)
Processing (CPU) & RAM: Dual-core 1.7 GHz Cortex-A15, 1GB DDR3
GPU: Mali-T604 (128MB)
Camera: 5 Mega pixels & 1.9MP front camera for video calling
Storage: 16GB Internal Storage, microSD expansion up to 32GB
Connectivity: Wi-Fi (802.11b/g/n); Bluetooth 3.0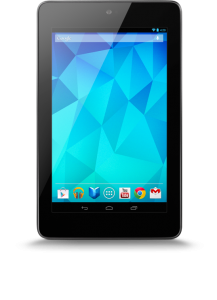 Google Nexus 7 

Key Features

 

– (

Buy Now

)
OS: Android Jelly Bean 4.1
Display: 7 inches 1280×800 HD display (216 ppi)
Processing (CPU) & RAM: 

Quad-core Tegra 3 processor, 1GB DDR3

GPU: Nvidia Tegra 3
Camera: 1.2 Mega Pixels front facing camera for video calling
Storage: 16GB Internal Storage, microSD expansion up to 32GB
Connectivity: Wi-Fi (802.11b/g/n); Bluetooth 3.0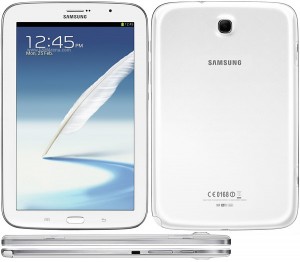 Samsung Galaxy Note 8.0

 (N5100) 

Key Features

 

– 

(

Buy Now

)
OS: Android Jelly Bean 4.1
Display: 8 inches 1280×800 HD display (216 ppi)
Processing (CPU) & RAM: 

Quad-core 1.6 GHz Exynos 4400, 2GB DDR3

GPU: Mali 400MP
Camera: 5 Mega Pixels rear & 1.2MP front facing camera for video calling
Storage: 16GB Internal Storage, microSD expansion up to 64GB
Connectivity: 4G/LTE/3G/MicroSim, Wi-Fi (802.11a/b/g); Bluetooth 4.0
Samsung Galaxy Note 10.1 Key Features
– (
Buy Now
)
OS: Android Ice Cream Sandwich 4.0
Display: 10.1-inch Multitouch 720p HD Screen (1280 x 800)
Processing & RAM: 1.4GHz Quad-Core Processor, 2GB
GPU: Adreno 225
Camera: 5 Mega pixels rear & 1.9MP front camera for video calling
Storage: 16GB Internal Storage, microSD expansion up to 32GB
Connectivity: Wi-Fi (802.11b/g/n); Bluetooth 3.0,GPS Enabled with Latitude, Google Maps