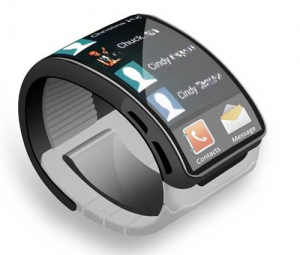 Samsung is leading the Android smartphone market for several years and the company is going to unveil its new Android gadget, known as
Samsung Galaxy Gear – Android Smartwatch (SM-V700)
. Perhaps its one of the best upcoming wearable gadget for tech enthusiasts. It will be announced on September 4th in a Samsung Unpacked event. Galaxy Gear Smartwatch is not just meant to receive notifications, however its scope its much more wider in terms of practical usage. Such as GPS integration for
offline navigation
, S-Voice & S-Health to help & monitor productivity & health apps.
Samsung Galaxy Gear will offer 2.5 inches of expandable display having display resolution of 320×320 pixels. Samsung will be using OLED display on its Galaxy Gear Android smartwatch, however its not supposed to support text input. Swipe gestures from right to left & vice versa will be supported as well. You have to connect & sync it with Samsung's Android smartphone / tablet (most probably you simply cannot use just any Android smartphone or tablet with Galaxy Gear due to limitation of Samsung Store). Galaxy Gear will start shipping for end users in retail stores in mid September / October this year.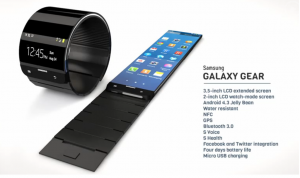 Galaxy Gear will be equipped with latest version of Android i.e, Jelly Bean 4.3 and will offer Bluetooth 4.0 & NFC connectivity to connect with its parent Android smartphone or tablet device. The device will possess a dual core processor which is clocked at 1.5Ghz & Samsung Exynos family chipset along with Mali-400 MP4 GPU. Since its a dual core device therefore it will have a great battery life which is expected to be up to 4 days. Galaxy Gear smartwatch will be offered in a colorful range of White, Orange, Gray, Black, White Gold. The most important part is the number of sensors Samsung will be using with their smartwatch to detect & act according to the situations. Accelerometer is the most basic sensor that detects motion of the device and performs certain functions.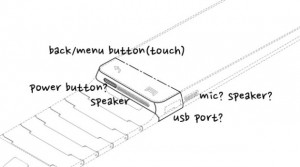 Samsung Patent for Galaxy Gear – Android Smartwatch
The smartwatch will be activated automatically once you'll move your hands to take the smartwatch near to your eyes and that's the magic of accelerometer sensor. There will be a inbuilt mic / speaker and a microUSB port for charging & data transfer purposes, however connectivity with Samsung smartphone or tablet device will only take place via Bluetooth or NFC connection. Samsung has also decided not to equip Galaxy Gear Android smartwatch with traditional Google Play Store, rather Samsung's own app store. Pointing that only Samsung's smartphones & tablets will be synced with Galaxy Gear smartwatch. There will be a deep Twitter & Facebook integration on the software side of Galaxy Gear. T3 has created an exclusive unoffical 3D concept render video of Galaxy Gear Android smartwatch, you can watch this awesome render video just below. Please note that expandable / bendable OLED being presented in this concept video may or may not be there in an official Galaxy Gear.
What do you think about the practical scope and usage of Galaxy Gear Smartwatch? Let us know your prestigious feedback in the comments section below.