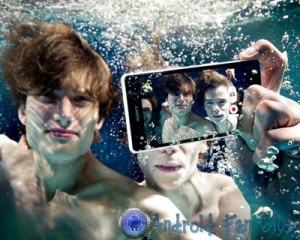 Android smartphones are catching up the most attention all over the world. Technological advancements in smartphones have evolved the new ways in which your smartphone can be used. Ever wished that you could be able to record hd videos and capture snaps under the water right with your handy smartphone? Now its possible with the help of latest smartphones from Sony and Samsung. In addition to water resistance, the smartphones will also offer great protection against dust. Let's have a look at Sony Xperia ZR,
Sony Xperia Z
and
Samsung's upcoming Galaxy S 4 Active
.
Sony Xperia ZR & Sony Xperia Z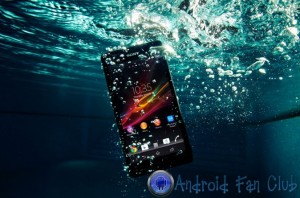 Sony has constantly been trying to come up revolutionary marketing tactics to seek the attention of Android smartphone users. Recently they have announced
Sony Xperia ZR which can be soaked under water up to 1.5 meters and for 30 minutes while Xperia Z offers 1 meter and 30 minutes of water resistance.
IP57 certification has been used by water & dust resistant smartphones. You can capture HD videos and photographs with 13 Megapixels of camera packed in Xperia Z & ZR,
under the water
during swimming with your friends. Both Sony Xperia Z and ZR are
dust resistant
as well. Xperia Z & ZR offer Qualcomm Snapdragon S4 Pro 1.5Ghz quad core CPU, 2GB of RAM, 8GB of storage for ZR and 16GB of storage for Z, both having external microSD slot. Xperia Z & ZR devices have Adreno 320 GPU. In comparison with
Xperia Z
, ZR only offers 720p of display resolution whereas Z offers 1080p. Display screen size of Xperia ZR is 4.55 inches while
Xperia Z
has 5.0 inches full HD display.
Sony Xperia ZR Promo Video 1
Sony Xperia ZR Promo Video 2
Sony Xperia Z – (Buy Now)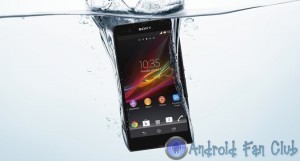 Sony Xperia Z Promo Video
Samsung Galaxy S 4 Active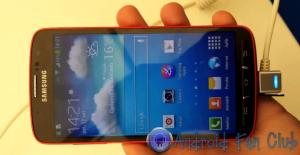 Sony have been leading the waterproof Android smartphone competition, Samsung has also plunged into the battle of waterproof and dust resistant Android smartphones. Samsung will be announcing its
Galaxy S 4 Active
that is dubbed version of
Galaxy S 4
, but it offers water and dust resistance. Galaxy S 4 Active might offer Exynos octa core processor and will have 8mp of snapper. Here's a short hands-on video of Samsung Galaxy S 4 Active. 
Samsung Galaxy S 4 Active – Hands-on Video