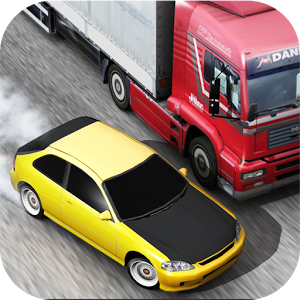 Talk about addictive race game, Traffic Racer is on top of my list nowadays and from the looks of it, it might stay there for a long long time. Lately it has been taking much of my time, which is not usual to me for forever driving type of games.
Traffic Racer developed by Soner Kara, brings forever driving type games to the whole new level by adding couple of very simple controls I have been wishing to have in similar games before this one – a break and an accelerator. It makes a huge improvement in overall game play. Adding break control seems an illogical move for such a game and while I wished for it, I had my doubts but it turned out to be more fun than I had in mind.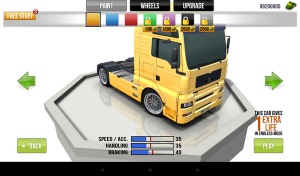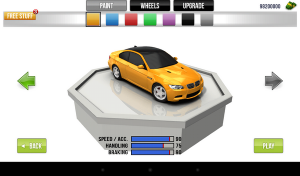 You have got to play it to experience it. It has become truly addictive and more challenging because now instead of the game challenges you, you challenge yourself. And when you push yourself and make a mistake, you laugh at your own move and get on to it again and again and again and that's real fun, not frustration. Traffic Racer gives you that kind of fun. Everyone who played this game experience the same reaction of fun and excitement.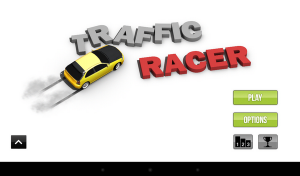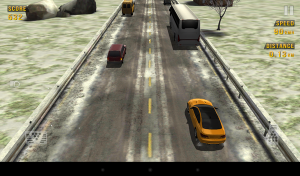 Graphics of the car from top view doesn't look much at first, but attention to details is nothing short of a treat as you involve in the game. As you start your gameplay you will start sensing the smallest movement car make as you storm it through traffic in high speed. Breaking, gear shifting, wicked turnings and speeding up, you will feel all those moves.
Another fun factor for me in this game is 4 modes, you can drive on and on, you can drive but with incoming/opposite traffic, you can drive against time and you drive free form. I find speed drive against incoming traffic the most challenging mode.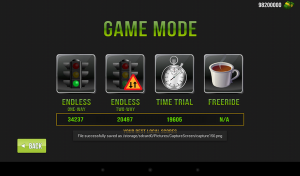 There are 4 tracks in which last 2 are tough. One is the snow scene and other is the night in city road. Roadside pattern is finely designed. It is repetitive but the traffic will keep you very busy to notice it.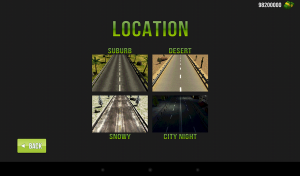 Your traffic is dynamic too, the car or trust ahead you can change its speed at any time and you have to constantly adjust your car accordingly to avoid any fatal accidents.
Game has numbers of cars to choose from; of course you will have to earn the cars. Customization of car is limited to colors, wheels and performance upgrade. I wish we had option to do some cool paint jobs that look good from top view. Well, maybe in the next version.
This time you are also allowed to bump into cars as long as you are not speeding. I was hoping bumping against other cars will bring the cops but that didn't happen in this game either.