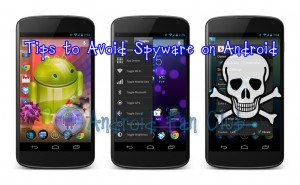 How many times do people consider protecting their android smartphones & tablets  from spyware? Spyware programs are known to cause serious menace to android phones and as a result can damage the Android operating system, that could lead towards potential data & financial losses as well as identity theft.
What are the top 10 tips to avoid your android phones from spyware then?
Top 10 tips to keep your android device free from spyware threats:
Install the latest versions of antispyware programs on your android phone. An antispyware programs helps to detect any spyware threats on an android phone. In addition, it deletes all the infected files and folders in an android safely. It is important to note that some antivirus programs have antispyware engines incorporated in them. Therefore, some antivirus programs can be purchased to and installed in order to keep your android safe from spyware.
Avoid visiting untrusted websites on the Internet. Most websites are used by hackers to cause malicious infections to devices that access the Internet. Visiting such websites will pose your android to spyware attacks. Such websites will direct all the links to the hackers' websites. This has an overall effect leaving your phone infected.
Updating antispyware program regularly. This is aimed to keep the antispyware database definitions strong enough to combat new spyware threats. This means that all threats will be removed from your phone. In addition to that, your antispyware program will be detecting any spyware threats on the Internet.

Avoiding to share infected storage devices. Sharing storage devices is known to cause the spread of spyware infections. This is only when such devices are infected with spyware threats. Such storage devices include flash disks (used via USB OTG on Android) & microSD memory cards among others.

Always download files and programs from trusted websites. This helps to keep your phone safe from spyware attacks. There are many safe and trustworthy websites but it all depends on the search engines that you always use. It is wise to note such websites and bookmark them for quick access on your browser. Make sure to avoid warez sites that offer free downloads to paid applications, whose installation APK files are mostly infected with spyware or malware virus.

Customizing antispyware programs to filter some of the searches on the Internet. This helps to ensure secure browsing. Most importantly, it is only the trusted websites that will be accessed.

Avoid opening files with certain extensions on the Internet. This is especially for those files that have the executable extensions. For example, some of the files that have the .apk extensions can be infectious if they are downloaded from untrusted sites.

Try to run a complete Android system scan on a regular basis. This should be taken as a routine in order to maintain a healthy android phone. The importance of doing this is to help in detecting new spyware threats. Such scans are also helpful in removing infected and corrupt files from your system.

Remember to perform scheduled heuristic analysis. This helps to detect new infections of spyware on a regular basis. Such analysis is helpful by giving security reports about your android phone. One can use such reports in order to undertake the necessary measures.

Always try to use the manufacturer's installed applications. All android phones come with pre-installed applications which are meant to be used by phone owners. However, one can decide to use another application besides the pre-installed one. For this case it is necessary to upgrade the pre-installed applications by buying from the manufacturer's website or Google Play Store. This helps to ensure a secure android phone all the time.
Couple of weeks ago Android Fan Club has also posted an article for our valued readers on how to protect Android smartphones & tablets against malware and viruses with
best antivirus apps
.
For more information on how to maintain a healthy android phone, it is wise to have the Norton phone number with you. This number is helpful if someone wants to know about the latest and reliable antispyware programs in the market. The
Norton phone number
can be obtained from the official Norton website.
Guest Author Profile: Julie Fernandez is a passionate blogger from London. As she is fascinated about technology, she loves to write article on it. As off now she is doing research on Norton guide. She suggests everyone to have Norton phone number in order to protect their apps from hacking and cybercrimes. If you are interested to write a guest post at Android Fan Club. Make sure to visit "Write for Us" section for guest post guidelines.