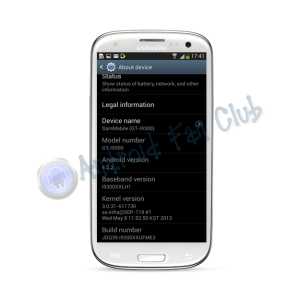 Android Jelly Bean 4.2.2 firmware update for Samsung Galaxy S 3 has just been leaked by SamMobile. The update brings quite awesome goodies from
Samsung Galaxy S 4
firmware for the old flagship Galaxy S 3. This leaked update isn't final yet, there are further developments which will take place and the final version of Android 4.2.2 Jelly Bean for Galaxy S 3 may or may not have all of these features. Android 4.2.2 update will be officially available for Galaxy S 3 users by the end of June 2013.
Warning:
This leaked update is for pro users only. You must follow the firmware update / flash guide at your own risk, neither Android Fan Club nor SamMobile will be held responsible in case anything goes wrong by unofficially updating your device.
This update will bring following changes.
Change log Android 4.2.2 firmware update for Samsung Galaxy S 3:
– Android 4.2.2 – Build ID: JDQ39
– New S4 Lockscreen: Multiple Widgets, two Unlock effects (Ripple and Light), improved ripple effect than Android 4.1.2, ability to change clock size and set a personal message
– New Screen modes (From S4): Adapt Display and Professional Photo
– Daydream
– Driving mode
– Actionable notifications
– New Additions in Notification Center
– Completely revamped Settings UI (Tabbed interface – Exactly like the S4)
– Addition of Voice controls (Let's you control various parts of the phone using voice commands – Galaxy S4 feature)
– Gallery modes have white background (When changing gallery modes to 3D the background changes to white)
– Full screen Samsung apps
– New S-Voice (from S4)
– New smart switch widget
– Found more? Tell us about them in the comments below! 
WARNINGS– This firmware will increase your binary counter but the current binary and system status will remain official.
– We have re-packaged this firmware from dump files.
– There is no modem in this firmware, so the Modem you will be using before flashing this firmware will remain the same.
– This is a pre-release firmware and not official from Samsung.
– We have fully tested this firmware and this firmware works perfectly as any other official firmware. 
Firmware DetailsAndroid Version: 4.2.2 – JDQ39 (Jelly Bean)
PDA: I9300XXUFME3
CSC: I9300OJKFME1
MODEM: N/A
Region: Middle East
Carrier: Branded
Changelist: 611730
Build Date: 8 May 2013
Download: I9300XXUFME3_I9300OJKFME1_ILO.zip 
Flashing Instructions– Unzip the file
– Open Odin 3.04 (already included in the firmware package)
– Restart phone in download mode (Press and hold Home + Power + Volume down buttons)
– Connect phone and wait until you get a blue sign in Odin
– Add I9300XXUFME3_I9300OJKFME1_HOME.tar.md5 to PDA
– Make sure re-partition is NOT ticked
– Start flash, sit back and wait a few minutes.
– If you encounter any issues with the firmware (Any FC, Bootloop etc)
– Boot into recovery mode (Home+power+vol up)
– Choose to wipe/factory reset. (THIS WILL ERASE ALL OF YOUR DATA INCLUDING YOUR INTERNAL SD CARD!)
– Then choose reboot and you should be good to go!