With the increased trends in using a single device for all purposes, the chances of revealing our personal information have exponentially increased. Although it is not a matter of fortunate that we live in 21st century, where using tablets and smartphones have made our lives much handier and hassle free but at the same time, the chances are of us ending up revealing all our personal information and private data like photos, gallery, videos and other apps including WhatsApp, SMS and emails etc. to the people trying to access our device. And as a matter of fact, nobody wants to reveal his private data to be in hands of intruders.
Thus, in order to prevent your data from being in intruded in the hands of intruders, you ought to have a good security app that locks individual apps instead of locking the whole phone. Thankfully, this thing has been covered by HEXLOCK, which is the one best app for all your security needs.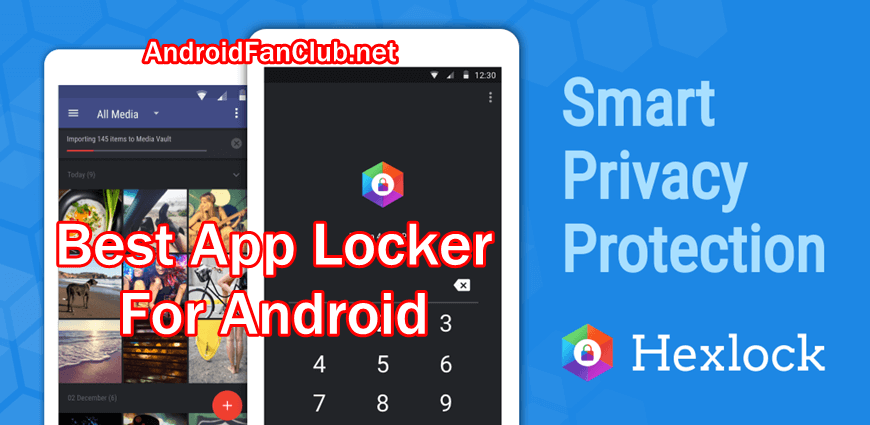 An Introduction to Hexlock App Locker & Photo Vault for Android Smartphones & Tablets
Unlike other security app, HexLock is the one, offering some most unique features and security specs that most of the apps lacks. The app is developed by Liquidum Limited, which is one of the most respectable developers for Android Platform. The app focuses on protecting all your private data by locking the apps using next level security features. Let us discuss its prominent features in detail:
Features of Hexlock Android Security App
1: Impressive User Interface:
To first thing that impress a user after its functioning is its user interface. That's what is completely considered by the developers of Hexlock as they offer a very impressive and attractive user interface which the users feel good about it. With its beautiful design, the app is decently simple in use. The app offers cool animated transitions, with all the options at hand.
2: Self-Activate Feature:
Another worth considering feature of the Hexlock is the auto-switching profile or self- activation feature. This feature is best for the teenagers where they can add their own profiles which are suitable for their work like school, work, and home and parental. These profiles can be set automatically activated when the network connection is connected on the device. Once the network gets disconnected from the device, the profile gets automatically deactivated, thus ensuring full control of your phone settings.
3: Media Vault Feature:
Another plus for this app is that it offers a powerful media vault feature that allows the user to lock all his private and confidential media files like pictures and videos in the gallery, without allowing anyone to access those sensitive media things.
4: Fingerprint Lock Protection:
Although there are number of devices that come with native fingerprint protection option with the sensors along with that, however, with that feature, you would only be allowed to lock your whole device not any individual devices. But thanks to hexlock that offers fingerprint lock protection for apps that will let only the users to access the apps that he wants with his fingerprint.
5: Parental Control:
Another key feature of this app is that it lets the user to set parental controls on their devices when the device survives in the hands of their children. This feature enable the children to make any in-app purchases or change any personal settings of the phone while they are playing games. This will not only up the security level, but also save chuck of money of users.
6: Social Network Protection:
As mentioned earlier, the app Hexlock also offers the feature through which the user can separately lock the apps including the social networking apps so that no one, except him, can inquire the social apps, even when they lend their phone to others. Besides this, the app also offers setting and Wi-Fi lock feature along with the customized protection to all your private information, regardless to where your phone goes.
Pros and Cons of HexLock Android App Locker
Pros:
Smooth Performance
Beautiful UI and design
Unique features with minimal risks
Easy to use
Auto-switching Lock profiles
Cons:
Fingerprint lock feature is only available for Samsung devices.
How to Set Up Hexlock App on Android Smartphone or Tablet?
After downloading and installing this app, you need to set up few things to get started. When you open the app for the first time, the app would ask for the pin or password that you want to keep for your apps. After that, you can start locking all your apps by selecting them individually. The app will also ask the usage access permission to work properly, you need to "Allow" and turn on Hexlock on the "Apps with usage access".
Download HexLock App for Android Smartphones & Tablets
Hexlock is one of the most decent yet powerful security apps that is certainly designed to provide a hassle free and smooth smartphone experience to the user without any security issues. The app is available on Play Store, free of cost that you can also get by visiting the link: