Although Android offers big deal of creating shortcuts on its home screen but for some it is not enough. They seek more direct and quicker way to get to their favorite apps or specific tasks such as setting toggles. Floating Toucher can be an ideal app for those Android users.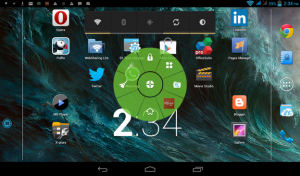 Floating Toucher app for Android by "Boat Browser Design" places a small circular button on the screen, which can be moved on screen by dragging. Button can be re-sized to your comfort from settings of the app. There is an option to modify button's image, paid / premium version of Floating Toucher let's you have your own image as button.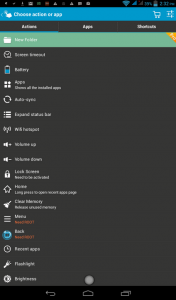 Double tapping on it brings the App Switcher on. Tap on button once and in the middle of your screen a Dial will appear with 8 programmable sections and one button in the middle to take you to settings where you can customize it. Long Press on the button will hide the button from screen to notification tray and recalled from there at will.
The dial can slide to left and right allowing you to add a couple of more dials. But this feature is for paid version. You can create groups in those leaves, you can add Settings' item or  shortcuts.
Paid version promises more functions and more customization for their users. You can check them all on the Play Store or through the free trial version.
Download Free Version from Play Store: 
com.boatmob.floating.touch