One of the main feature for a Android smartphone or a tablet is to browse the web. These days there are so many internet browsers available on Google Play store. So here is a brief comparison between some of the most popular & widely used web browser on the Android OS.
We will be presenting the pro & cons of 5 web browsers for Android smartphones & Tablets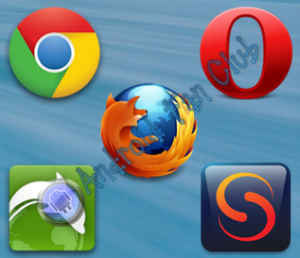 Google Chrome

Search and browse fast with Chrome on your Android phone and tablet. Sign in to sync your personalized Chrome experience from your computer to bring it with you anywhere you go. Search fast – Search and navigate fast, directly from the same box. Choose from results that appear as you type. – Browse faster with accelerated page loading, scrolling and zooming.
Pros of Google Chrome
Ever since the 4.1 update the Google Chrome is the main browser for Android and it comes pre-installed as a native browser.
Google Chrome scored 390 out of 500 on HTML5TEST.com and even supports html 5 video playback.
You can add now your favorite sites directly on your home-screen. After you bookmark the site just go to bookmarks and long press the bookmark and select add to home-screen. This is a pretty good feature that saves time
You can sync your Android devices so you can access the page you have open on your smartphone with your tablet or PC.
If you swipe the the edges of your screen you can access different tabs which is cool.
Cons of Google Chrome
It takes up a lot of memory
Google Chrome is not so RAM-friendly and it takes up a lot of space.
Google Chrome has a lot of tweaks but finding them by yourself may be a long journey.
No native support for Adobe Flash                                                                           
You can install Adobe Flash on Android after the 4.1 update but you can not run it on Chrome. You will need a another browser for that. Still you are able to play HTML-5 based video content on Google Chrome.
Mozilla Firefox

Firefox for Android is the free mobile web browser that puts the power of the open web in your hands. The official Mozilla Firefox android browser is fast, easy to use, & customization with the latest security and privacy features to help you stay safe on the internet. Fast— Access, browse, and search the web at blazing speeds Smart— Keep your favorite sites and mobile videos at your fingertips with smart searching, easy-to-use tabs, and desktop-to-mobile Sync features Safe— Make sure your Android web browser stays safe & private with extensive security settings, addons, and features like Do Not Track
Pros of Mozilla Firefox
If you use Firefox on a regular basis on the PC or on any other device it is good to sync so you can have your favorite sites, bookmarks and history on your phone/tablet.
Firefox has some great Addons. You can use them to block ads on a web pages, download videos from YouTube and many other cool stuff. Mainly for personalization.
Adobe Flash Player Support
This is the main reason I installed Firefox on my Android device. I use the internet a lot to view cartoons, movies and to read news. And Firefox helps a lot with the Adobe Flash support. You just have to download the Flash Player from their official site and then run it.
Best HTML-5 Support on Android
Mozilla Firefox scored 399 points out of 500 which makes it the best browser with HTML-5 Support on Android.
Cons of Mozilla Firefox
The stock UI is so ugly, I do not even have words to describe it.
Firefox is a memory hog. Eatts up quite a lot of memory and makes the device unstable until you restart it again.
You can swipe left or right cause nothing will pop up. Nothing helps you making your browsing experience rich & much easier on Mozilla Firefox.
Dolphin Browser

Simplify your mobile life. Let Dolphin do all the work so you don't have to. Dolphin Browser is the world's first Gesture, Sonar and Add-on enabled mobile web browser on Android. Download Dolphin's free mobile browser and join the 50 million who enjoy the exclusive features of our mobile web browser.
The Dolphin Browser is very User Friendly and very intuitive. Also it has a very simple but cool UI.
It has a full screen option which helps you view big sites much easier.
Unlike the other browsers which freeze when you run them in background the Dolphin Browser remains active so you do not have to refresh the page.
Supports many user friendly gestures, for instance, just by drawing a "Y" takes you towards YouTube.com which is indeed a user friendly feature.
Does not take up as much memory as Chrome or Firefox.
Cons of Dolphin Browser
No Support for Adobe Flash
One of the reason I hate this browser.
It scored the lowest score on the HTML-5 test, scoring 299 out of 500. It is the best browser. Cool UI, clean and simple. If you have not tried it so far, try it, its a recommended one.
Opera Mobile

Fast, smooth and easy to use, when you're browsing on a tablet or smartphone, Opera Mobile helps you get more out of your time online, whether you're finding information or relaxing with entertainment. It's the ideal web browser to use on fast network connections such as Wi-Fi, 3G and 4G. It's designed to make the most of your Android device! Opera Mobile adapts automatically to the way you read, watch or interact on a smaller screen. You'll enjoy all your favorite websites even more in Opera Mobile.
Opera Mobile's Features
Smooth browsing & interface
All things look huge on Opera Browser which is good. Although the UI has not been changed in the last 2 years, it is still a good one. Web browsing on opera mobile is also smooth and fluid.
Saves bandwidth with Opera's Turbo mode
Opera Mobile has an option that saves the MB you use making the browsing experience much more faster.
By using this option the text on a webpage gets "wrapped" so you do not have to go to right or left to read the full sentence. I find this very useful when reading news.
Opera Mobile scored 406 out of 500 which makes it the best browser with HTML-5. Support in this comparison.
Opera mobile also supports adobe flash player, if it has been already installed on your android smartphone or tablet, though Adobe has pulled off flash player from Google Play store, while you can easily get it by a bit of Googling 😉
Skyfire Web Browser

What's in Skyfire Mobile Browser? • Flash Video • User Agent Switching • Facebook QuickView • Fireplace Feed Reader • Popular Pages • Related Ideas • Skyfire OneTouch Search • Facebook Like Button • Twitter Integration • Sports, News & Finance Buttons • Google Reader Customizable & Scrollable SkyBar (Skyfire's Toolbar) – Select any feature above and choose to enable or disable based on your browsing preferences. It's browsing made your way!
Skyfire Web Browser's Features
Feedreader allows you to add your favorite website's atom feed right on your skyfire web browser.
You can seemlessly integrate your twitter account with Skyfire web browser which offers ease of usage.
Sports, News & finance buttons
Dedicated sports, news and finance buttons allow you to read the related news as soon as they arrive.
User Interface + Good HTML-5 support
Skyfire web browser also offers the unique user interface which matches the need of internet users. Also offers great support for HTML-5 based web content.Let us know, which web browser do you use most frequently to surf the web pages on your Android smartphone or tablet in the comments section below.