Mobli: take a look at the world Smartphones has changed a lot of things in our life. One of such things is our photos. Some 15 years ago we took pictures with film cameras, 10 years ago we used digital 2 MP cameras, and today smartphone main camera is generally 8 MP. Another thing smartphones have changed is the way we take photos adding social aspect to it. Nowadays we just share our pictures with friends via social networks, and even create accounts in new networks for this purpose. This is how the history of photo service Mobli began. It was started 4 years ago. According to some rumors, Moshe Hogeg was at the concert and was taking pictures with his smartphone and then sending them to his sister. He was not the only one doing this. 
There were so many people, actually, that he decided to take advantage of the situation. This is how Mobli came to life, and its motto is "See the world through other people's eyes". According to the founder, if the Instagram essence is effects and sharing , then they want to offer users to see what's going on anywhere in the world. The project has been financed by such famous people as, for example, Leonardo DiCaprio and Serena Williams. At the end of the previous year Mobli as a company cost more than $100 mln. Right now Mobli is a site and apps for iOS and Android.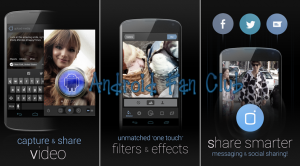 All together it's dozens of millions of users who create photo streams on almost any topic. The beauty of this app is that all photos and videos are determined by hashtags and/or geo-location. Thus you may watch the events, places, people and their activity in real time. For example, you watch the Eiffel Tower and see what pictures are made near it. Photo stream is constantly updating – several millions users are constantly posting new pictures. And now a couple of words about the app itself. First of all, you can create your own photo stream of the pics you're interested in. 
You may add users and tags to it. Thus you can see all necessary information in one place and sorted by topics. You can comment each photo, like them, share on other social networks, re-post them to your own stream or add to your favorites. Secondly, popular materials from all around the Mobli, recommended streams and live – the section where all new photos appear in real time. This is my favorite section of the service. And thirdly, the camera itself. You will find all necessary tools – timer, video mode, flash control. After taking a photo you can process it with the help of different filters. 
There're not many of them, but developers constantly add new ones. After editing you may description and hastags – the most essential part of Mobli. The app detects your location automatically. Your photo will get into the live stream and will become part of the Mobli world, which is available to everyone. After that you start collecting likes and comments from other users, as well as the constantly growing number of viewings, which is very pleasant. This is how I met Mobli. Among the advantages I can name a lot of really good pictures, convenient and simple interface and the overall speed of the service. The only serious minus for me was the absence of more flexible camera settings. 
You can grab a copy of 
Mobli for Android
from Google Play Store for your Android smartphone or tablet device.
Guest Author's Profile:
Eugene Rudenko is a copywriter for IT company Intellectsoft, leading mobile developer and b2b service provider. If you are interested to write a guest post at Android Fan Club. Make sure to visit "Write for Us" section for guest post guidelines.