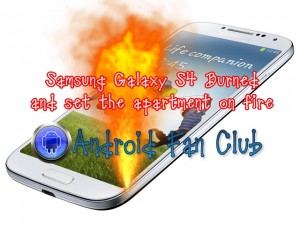 High end Android smartphones possess tremendous processing capabilities as compared with any other smartphone OS. Therefore Android's experience on high end smartphones is much smoother. However there are drawbacks of such high end processing on a smartphone device. An unfortunate incident took place in Hong Kong with Mr Du's
Samsung Galaxy S4
, while he has been playing
Love Machine
game on his Android smartphone and it was plugged in for charging. Suddenly during playing the game, the device exploded with a bang and caught fire. Mr Du immediately thrown away his device on his sofa, which caught the flames & spreading the fire towards curtains that gradually set his whole living apartment burned into ashes. Luckily Mr Du and his wife were able to make successful escape from their apartment, however they had to suffer from minor injuries. Mr Du's Mercedes had also suffered a bit due to high intensity of flames.
This event isn't unique in its nature, there were almost 9 burning cases reported for several Samsung Android smartphones. Perhaps the most common reasons of exploding devices are the usage of non genuine accessories, like batteries and chargers. Mr Du claims that he was using stock Android ROM, genuine battery and charger that were shipped with the retail package, when this incident took place. Samsung will investigate this incident and if the that burned Galaxy S4 device proved to be the culprit, Samsung will have to bear all the damaging expenses and it will also hit a big strike against mighty Samsung's goodwill.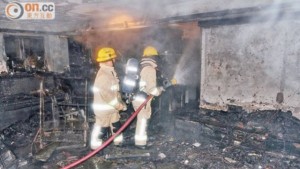 We would appeal our valued readers not to use non-genuine accessories with their Android smartphones, and over-clocking the processor speed could also result into something similar, just like this unfortunate incident.