Adobe Flash Player was most widely used on online video streaming websites like YouTube, even today many other websites still rely on flash player support. However Google decided to ditch Adobe flash player in favor of HTML5 based video content streaming from their most popular Android operating system. Adobe flash player remained the vital part of Android until Ice Cream Sandwich (Android 4.0), later on with the arrival of Android Jelly Bean (4.1 onwards) adobe flash player has been removed and even its not available on the Google playstore.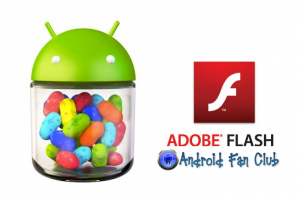 In order to address this issue, we will have a look at some steps which will help you to manually install adobe flash player's apk on your Android smartphone. Whether it be running Android Gingerbread, Ice Cream Sandwich or Jelly Beans OS, you'll be able to enjoy flash based video streaming content on your favorite websites by following our guide. Default web browser &
Google chrome
may not be supporting the adobe flash player plugin on Android, below we will also discuss the browsers that support adobe flash player plugin.
Steps to manually install Adobe Flash Player on Android Smartphone
Enable installation of non-market applications from your Android smartphone's security settings

(Settings > Security > Unknown Sources > Tick mark)

Copy the correct Adobe Flash Player APK file according to your Android smartphone's OS version to your phone's internal or external microSD card (whichever is applicable)

(Check the Android OS version from Settings > About > Android version)

Access the file manager of your Android smartphone & install Adobe Flash Player APK.
Just have a look at Flash player supported web browsers for Android just below and enable / activate flash player plugin from the browser settings.
Now you can enjoy using Adobe Flash Player on any Android smartphone and you can easily surf the websites which require Adobe Flash Player Plugin.
Browsers that support Adobe Flash Player Plugin on Android
There are many web browsers which are still supporting Adobe Flash player plugin for Android smartphones & tablets. Most popular and widely used web browsers with flash player support include; FireFox & Skyfire Web browser. You might need to enable / activate the flash player plugin support from the web browser settings after its installation.