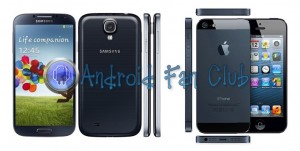 Why the Galaxy S4 is a Better Choice than the iPhone 5
In the past couple of years, Samsung has become one of the biggest names in tech and they've quickly come to rule the Android roost. This is in no small part due to their incredible success that was the Galaxy S III from last year. This year, Samsung is solidifying their hold with the Galaxy S4, building on what made last year's device so great. It's the iPhone 5 against the Galaxy S4 this year (until Apple try something else) and the Galaxy S4 has this one all sewn up. Let's see why, shall we?
It's a Powerhouse
Sure, the iPhone 5 isn't exactly a slacker but, the Quad-Core CPU inside of Samsung's latest and greatest has it beat. The Snapdragon 600 inside of the
Galaxy S4
is a great performer, whether it's apps or games. It's no wonder the
Galaxy S4 is flying off shelves
. In apps, the Galaxy S4 is super-fast and with LTE on every major network, you'll be
surfing the web
at breakneck speeds. Gaming is great here as well, with much better performance in games than the iPhone 5, that just has a Dual-Core CPU and an aging graphics processor. 
The Galaxy S4 is a particularly great smartphone for those looking to
play games on the go
. Thanks to the brilliant 5-inch Super AMOLED display and great graphics you'll not want to put this guy down.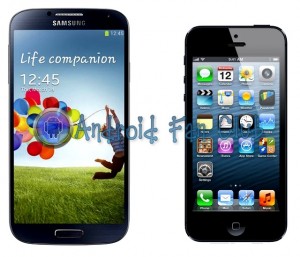 It's Great for Taking Photos With
While the outright image quality of the Galaxy S4 and the iPhone 5 are very close, it's features that count. The Galaxy S4 has more features for those looking to take a lot of photos than any other phone. You can take a photo of yourself and the scene at the very same time. The Galaxy S4 features a huge amount of shooting options and more. There's nothing to worry about when it comes to making sure you get the right shot, either. Samsung has taken care of it all for you. And there are
awesome camera apps
for Android smartphones that you must try with your Galaxy S4.
It Has Software Features You'll Love
While Apple love to proclaim that "there's an app for everything" on the iPhone, Android has more than enough to keep you busy. Android even has an app to control mosquitoes, you see where Apple's App Store does everything, the Play Store is unique. It's not just apps that make the Galaxy S4 a strong candidate, though. The phone itself comes with far more default features than Apple's iPhone. For instance (Smart stay, Smart pause, Smart scroll, Air gestures, Dual Shot, Simultaneous HD video and image recording). With a whole
suite of apps dedicated to your health
, the Galaxy S4 really is a life companion as Samsung like to call it. Need the top notch apps for your Galaxy S4 smartphone? Android Fan Club is continuously striving hard to deliver the
best Android apps catalog
for our valued readers.
You Won't Regret Choosing the Galaxy S4 Over the iPhone 5
The Galaxy S4 has so many features and such a high quality display that it's hard not to fall in love with it. Sure, it's a lot larger but it still feels great in hand and shows off videos and photos like nothing else. If you're looking for a smartphone that's really smart, the choice should be clear. 
Guest Author Profile: Courtney Gordner is a blogger with a passion for all things internet, phone and technology related! Read more from her on her own blog, www.androidfanclub.net. If you are interested to write a guest post at Android Fan Club. Make sure to visit "Write for Us" section for guest post guidelines.