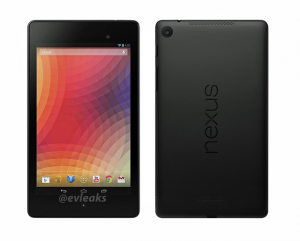 Last year was a perfect year for mid-budget tablets. One of these tablets was the Nexus 7, a powerful 7-inches cheap & economical Android tablet packing a quad-core Tegra 3 processor 1.2 GHz, 1 GB of RAM and up to 32GB of internal storage. The Nexus 7 was the perfect tablet with pure Android experience. Nexus 7 Android tablet had achieved exceptional success rate, which will be continued with the new generation of Nexus 7 Tablet. Yes the updated new generation version of Nexus 7 Android Tablet. Rumours are all over the world which claim that the new Nexus 7 will be launched this month i.e, July 2013.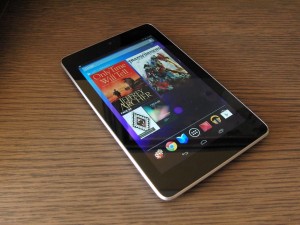 Asus Nexus 7 Android Tablet (1st Generation)
Design of new generation Nexus 7 Tablet
The design of new generation Nexus 7 Android tablet will perhaps remain the same, maybe with some minor changes. In my opinion, I think it would be great if they will place 3.5MM audio jack in the correct position that is on the top of tablet. Thanks to evleaks for leaking out the latest press shot of upcoming new generation Google Nexus 7 Android tablet.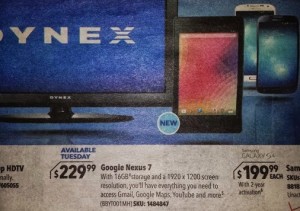 Display Resolution of new generation Nexus 7 tablet 
The screen will also receive an update from 1280 x 800 resolution, it will become a stunning and beautiful 1980 x 1200 resolution which makes for 300 ppi.
Technical Specs of New Generation Nexus 7 Tablet 
7 inch LED with 1920*1200 resolution
Qualcomm Snapdragon 600 1.5Ghz Quad Core CPU / Snapdragon APQ8064 CPU
2GB RAM
16 / 32GB Internal Storage + external microSD card slot for storage expansion
5Mpx rear camera & 1.2Mpx front camera for video calling
Android 4.3
4000mAh battery
WiFi a/b/g/n, Bluetooth 4.0 & NFC enabled LTE / WCDMA / GSM Support
These are not confirmed specifications of new generation Nexus 7 tablet, but most probably there won't be major differences in the actual ones. 
These specs were made public by someone who wants to remain anonymous.
Price & Availability
The leaked price would be somewhere between $229 in the USA. The tablet goes by the code of K008 and K009 and have been confirmed by the FCC. The new Nexus 7 received certification in Indonesia and Google is holding an event this week, probably new generation Google Nexus 7 tablet would also be announced in it.