Insufficient storage available, Storage space is running out, Phone storage is getting low these terms sound quite familiar when your Android device is facing low disk storage errors. SD Cards help to expand your Android device storage to great extent, you are no more limited to the built in storage capacity of your Android device which usually varies from 4GB – 16GB. With this limited storage capacity you are left with no option as in many cases the internal built in device storage isn't enough.
Music addicts usually fill up their devices with tons of MP3s while those who prefer watching high quality movies on their Android tablets / smartphones / phablets are out of storage just by adding few Blue Ray movie prints into the device. And those who love high definition gaming find themselves caged with internal storage. Therefore in all such scenarios one has to increase the storage capacity of Android device by purchasing an external micoSD card with significantly higher storage capacity.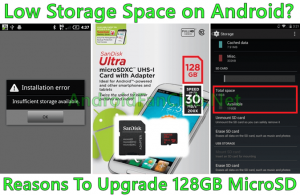 Ten Reasons To Buy 128GB Micro SD Card & Increase Storage
I will list down the reasons why you should
Buy high speed class 10 128GB micro SD card for Android
and
increase the storage capacity
of your Android smartphone / tablet.
1.
Because your Android phone or tablet's internal storage is not enough. Though you can try out
Junk Files Cleaner on Android
 to free up storage space. File Managers also allow you to keep track of your storage space and let you know which files & folders are consuming how much storage space.
Top 10 File Manager Apps for Android
could help you manage your storage space problem manually. I had also covered some
Tips to Free Up Storage Space on Android
. If you have followed all these steps but still think that your phone's storage space isn't enough for your needs, probably its right time to upgrade towards high capacity
128GB micro SD card
.
4.
You are HD gaming addict and want to have more HD games on your Android device, due to that you need to buy additional external storage space. Here are some
Popular HD Games for Android
.
7.
You own multiple gadgets & devices, and you don't want to duplicate your data collection (music / movies / ebooks / official stuff), you can buy high capacity
external storage card of 128GB
and could easily swap & switch between several devices.
8.
 You want to keep Backup of your Android apps APK files and thus you need extra storage space. Or you can try
Cloud Storage Apps for Backup
if you have best internet connectivity around you.
9.
 Love installing custom roms on Android? You should backup stock / default rom on external storage and can easily keep many collections of custom roms on external microSD card.
10.
 Want to
Increase RAM of your Android Device
? High capacity
Class 10 128GB microSD storage cards
have higher read / write speeds and thus could be used as RAM on your device.
I will recommend you guys to buy SanDisk Ultra 128 GB microSDXC UHS-I Card if you fall in any of the above category. Please make sure to check with your device manufacturer whether your device supports such a high capacity storage card or not, if you own any latest Android device, then it shouldn't be a problem at all, since new devices easily support storage expansion with high capacity storage cards. If you are successfully using 64GB microSD card on your Android device, its highly likely that 128GB card will also be supported.